page
MO III (7600 Wall St), Industrial/Flex Space
Property Description
20,000-sq.-ft. (200 ft. front x 100 ft. deep) single-story building that is designed for multi-tenant office/warehouse use with recently updated renovations to the building façade, walkways and common area lighting. Individual tenant signage is also available.
Location: Ohio, Valley View
Overview
Contract Type:

Lease

Square Footage: 20,000sq ft
Country: United States
Zip code: 44125
Location
Address: 7600 Wall St Valley View, OH 44125
Location Description: This property is located on the south side of Wall Street, which runs west off of West Canal Road (parallel to Canal Road) between Rockside Road and the I-480 bridge. Excellent access to I-77 and I-480.
41.405836
-81.628910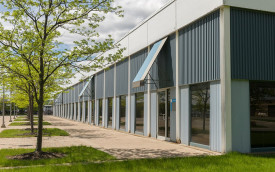 View
7600 Wall St Valley View, OH 44125
2000
WALKING
km
en
15
100%
400px
https://www.daladgroup.com/wp-content/uploads/2019/07/industrial-150x150.png
Distance
Address
Walking time
min
Details
Overview
Address:

7600 Wall St Valley View, OH 44125

Contract Type:

Lease

Square Footage:

20,000sq ft

Country:

United States

Zip code:

44125

Views counter:

1461