page
Hat Factory, Residential & Mixed Use
Property Description
53,200 sq. ft. A six (6) story freestanding building with high image retail space on the first floor and lower level. (Upper floors consist of 32 luxury rental apartments).
Location: Ohio, Cleveland
Overview
Contract Type:

Lease

Square Footage: 53,200sq ft
Country: United States
Zip code: 44113
Amenities
Elevator
Fitness Facility
Neighboring Restaurant
Parking Garage
Utilities
Air conditioning
Electric
Heating
Sewage
Water
Location
Address: 1239 W 6th St Cleveland, OH 44113
Location Description: The building is well located in the "heart" of Cleveland's Historic Warehouse District on the east side of West Sixth Street between West St. Clair Avenue and Lakeside Avenue.
41.500682
-81.699363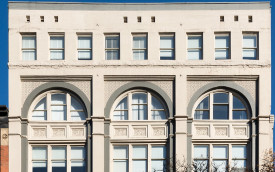 View
1239 W 6th St Cleveland, OH 44113
2000
WALKING
km
en
15
100%
400px
https://www.daladgroup.com/wp-content/uploads/2018/11/house-2.png
Distance
Address
Walking time
min
Details
Overview
Address:

1239 W 6th St Cleveland, OH 44113

Contract Type:

Lease

Square Footage:

53,200sq ft

Country:

United States

Zip code:

44113

Views counter:

291