page
Pioneer Bldg. I, Office
Property Description
A single story office building with approximately 6,000 sq. ft. on the Lower level.
The building interior has several hundred workstations available and private offices. CAT-5 cabling is in place throughout the building.
The building has elevation and sight-lines to downtown Cleveland buildings.
Via I-480 at Broadway Avenue the site is very accessible to the entire Greater Cleveland/Northeast Ohio market.
Location: Ohio, Garfield Heights
Overview
Contract Type:

Lease

Square Footage: 87,548sq ft
Country: United States
Zip code: 44105
Location
Address: 4800 E 131st St Garfield Heights, OH 44105
Location Description: 4800 East 131st Street, Garfield Heights, Ohio 44105
41.431803
-81.592780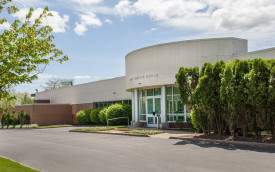 View
4800 E 131st St Garfield Heights, OH 44105
2000
WALKING
km
en
15
100%
400px
https://www.daladgroup.com/wp-content/uploads/2018/11/apartment-1.png
Distance
Address
Walking time
min
Details
Overview
Address:

4800 E 131st St Garfield Heights, OH 44105

Contract Type:

Lease

Square Footage:

87,548sq ft

Country:

United States

Zip code:

44105

Views counter:

1723